Press Release
State of the City: Mayor de Blasio Creates Made in NY Manufacturing Campus at Bush Terminal in Brooklyn for Film and Fashion Industries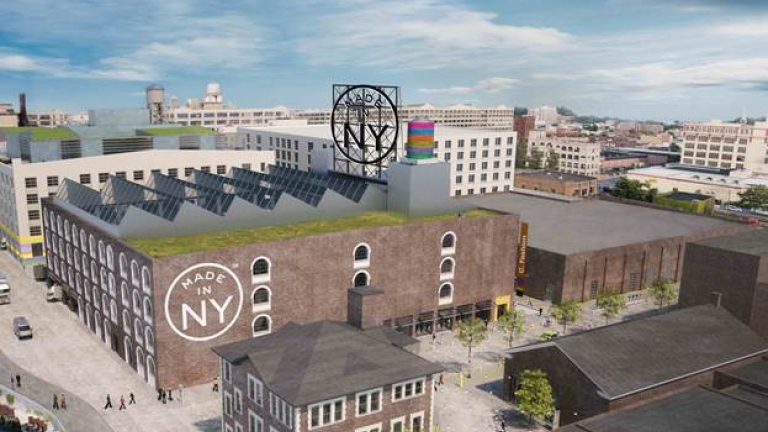 City investment of $136 million will create 1,500 permanent jobs and 800 construction jobs; that are part of 100,000 good paying jobs by 2026, 40,000 within four years
Campus to feature state-of-the-art, affordable production space for film, television production and garment manufacturing
BROOKLYN, NY—Mayor Bill de Blasio today was joined by leaders from New York City's fashion, film and television industries to announce the City's $136 million commitment in a 'Made in New York' Campus at Bush Terminal. The underutilized Sunset Park buildings will be transformed into a hub for garment manufacturing and film and television production, and support more than 1,500 permanent jobs. This is just the most recent investment City is making in Sunset Park, where we've dedicated millions of dollars to grow thousands of good industrial jobs. The build out of modern garment manufacturing space, sound stages, and other campus improvements is expected to create more than 800 construction jobs.
See renderings of the project here.
As part of his 2017 State of the City address, Mayor de Blasio is committing to adding 100,000 good-paying jobs, including these Sunset Park jobs, within the next decade – and including adding 40,000 jobs in the next four years.
"Good paying jobs are the bedrock of strong city. We will continue to invest in the 'Made In New York' brand and in New Yorkers. This is still your city, today and tomorrow," said Mayor Bill de Blasio.
"We have used our 'Made in NY' brand to grow fashion and film companies, and today, we're committing some of our most important real estate assets to support them as well. These industries support hundreds of thousands of families with good wages, and they need affordable and modern space to grow. The 'Made in NY' Campus represents the collision of our creative economy and advanced manufacturing. This is going to be a 21st century working waterfront that keeps our city the capital of film and fashion," said Deputy Mayor for Housing and Economic Development Alicia Glen.
With average salaries of $57,000 in the fashion industry and $53,000 in the film production industry, this in an investment in good-paying jobs with upward career tracks for New Yorkers. Local hiring and workforce training will ensure Sunset Park residents have access to the campus' new jobs. CUNY's Fashion Institute of Technology will launch two courses for makers at nearby Brooklyn Army Terminal, which will be integrated into the overall project.
The Made in NY Campus, anticipated to open in 2020, aims to synergize creative manufacturing uses and provide affordable, 'best-in-class' industrial facilities for garment manufacturing, film and media production, and related services and industries.
The fashion industry already represents 182,000 jobs, 5 percent of the city's job force. The film industry is home to 130,000 jobs in the city. Both sectors face a shortage of stable, affordable space necessary for companies to grow and add jobs. By investing at Bush, the City will help fashion designers increase their local manufacturing, and help increase to City's capacity to attract new film and television productions.
The Mayor was also joined by elected officials, Deputy Mayor of Housing and Economic Development Alicia Glen, New York City Economic Development Corporation President and CEO James Patchett, and Julie Menin, Commissioner of the Mayor's Office of Media and Entertainment at Bush Terminal for the announcement.
"I thank the Mayor for expanding investment in Sunset Park's manufacturing. I look forward to working with him and the entire community to improve local employment growth, find greater synergies with area businesses and the opportunity to further foster entrepreneurship, right here, in our neighborhood," said Congresswoman Nydia M. Velázquez.
"Investing in Sunset Park is investing in the sunrise of a new and prosperous day for Brooklyn's economic future. I thank Mayor de Blasio for his commitment to Bush Terminal, and I look forward to working in partnership with his administration and local stakeholders to ensure we manufacture a community-driven plan for this capital investment that will benefit this borough for years to come," said Brooklyn Borough President Eric Adams.
"I am pleased that Sunset Park residents will have priority status when applying for jobs at the new film and fashion facilities in the Bush Terminal. Sunset Park is at a crossroads as new development and rebuilding at the waterfront brings new challenges. Good jobs will help the local economy, as subway lines are also rebuilt and efforts are made to limit increased truck traffic in the community," said Assistant Speaker Felix W. Ortiz.
"I want to thank the Mayor. The future of this City depends on investments like this in places like Sunset Park, a walk to work neighborhood. Let's not stop here. This investment should not only rebuild the decay in our infrastructure, it should also strengthen our relationship with each other. We can do that by keeping the momentum going ensuring this investment ushers in substantial local engagement, accountability, and benefits," said Council Member Carlos Menchaca. "The businesses and residents of Sunset Park must be treated as key decision-making stakeholders in planning for projects like the Made In NY Manufacturing Campus at Bush Terminal. Sunset Park's manufacturing zone needs protection from hotels and storage facilities, extreme real estate market pressures, and the daily challenges faced by manufacturers operating both on City-owned property and in nearby areas. I pledge to keep our City investments responsible, committed to local community input and long-term, district-wide planning. New York City deserves it."
"The Made in NY Campus will not only serve as a state-of-the-art industrial facility, it will provide a dedicated and affordable home for garment manufacturers and media production in Sunset Park," said NYCEDC President and CEO James Patchett. "Strategically investing in these job-intensive sectors is a key element of Mayor de Blasio's commitment to create 100,000 quality jobs within the next ten years."
"Film and television production in New York City continues to thrive and break records with nearly double the amount of television primetime series and a 40 percent increase in films, just in the last couple of years," said Julie Menin, Commissioner of Media and Entertainment. "Capitalizing on city-owned assets, the Made in NY Campus will ensure that this growth trajectory continues, providing even greater economic benefit to the City and hundreds of more good paying jobs."
"New York's local foods are one of the things that make this city so great. More importantly, the local food economy provides good jobs and a career path for many New Yorkers, as well as improving our health and the environment. We are thrilled to support the 'Made in NY' Campus so that more food can be produced right here in New York City," said Barbara Turk, Director of Food Policy at the Office of the Mayor.
"This is a great boon for Brooklyn business and all of New York City. Just like the exclusive Brooklyn-Made certification, the Made in NY label adds a measurement of product authenticity that signals quality to consumers," said Brooklyn Chamber of Commerce President and CEO Andrew Hoan. "I want to commend Mayor de Blasio and EDC President James Patchett for their commitment to jobs and the creation of a working waterfront."
"New York City has incredible manufacturing facilities, and it is exciting to see the Mayor and this Administration supporting its future. With this initiative, fashion manufacturing in the city has a new opportunity and a new home in which to flourish. I couldn't be more pleased," said Andrew Rosen, Founder and CEO of Theory, Inc.
"It will be great to have an extension of Manhattan's garment center in Brooklyn especially for new aspiring designers. Sunset Park feels like a breath of fresh air. The merging of fashions designers and manufacturers will energize our made in New York fashion community," said Nanette Lepore of Nanette Lepore.
"As industrial working class waterfront communities like Sunset Park are faced by displacement pressures and challenges, the opportunity to move forward on using our waterfront for sustainable industrial uses that serve current and future needs become paramount. We are gratified to see the de Blasio's administration's Bush Terminal Initiative aligned with our community's vision," said Elizabeth Yeampierre, Executive Director of UPROSE.
"The Mayor has just put a stake in the ground for New York City to be a leader in connecting design to manufacturing in the 21st century," said Debera Johnson, Executive Director of Pratt Institute's Brooklyn Fashion + Design Accelerator (BF+DA), a small-run production facility and business incubator for design companies. "The BF+DA is putting substantial focus on R&D prototyping to produce garments that are activated by technology – it's a revolution that will redefine the industry and revitalize the city's fashion economy."
"As a business owner, I want to be a part of building something great and keeping the art of making in New York alive, to be a part of the bigger plan and work towards building an environment for all the future makers and creators. The next generation of factories and manufacturing need an establishment to grow and flourish. We need a place to encourage the business of manufacturing in New York. Sunset Park and Bush Terminal are offering the solution to every factory problem. With an incredible selection of space, unbelievable employee facilities and an abundance of transport options this is going to be a one of a kind location," said Michelle Feinberg, Owner and Designer of New York Embroidery Studio.
"New York is one of the fashion capitals that still has a manufacturing community, that is something we need to preserve, not just in a romantic way, but in an ambitious way. We work, design, and manufacture everything in New York City. You can't be more Made in New York than that!" said B Michael of b michael AMERICA.
"Made in New York is a growing fashion movement that will succeed with real backing—the kind that delivers secure jobs to factories and deliver reliable services to designers, and that integrates the disparate arms of the local industry into a more organized and reliable whole. The city's commitment to preserving and growing our manufacturing capacity could be the game-changer we need," said April Johnson, Founder of Alasdair.
"The support and creation of NYC manufacturing is crucial to the sustainability of emerging and established American fashion companies. The support of NYC manufacturing is crucial to all American fashion companies. Building back the fashion industry in NYC is critical to emerging designers and to the fiber of the city," said Julie and Jason of Haus Alkire.
"We started CADET with our own apparel factory in Bushwick. We managed production not only for CADET, but for many other brands. We sold the factory in 2015, but they continue to make some of our garments today. Owning a local factory allowed us to be more flexible with minimums and do more experimentation with styles, construction and fabrications. For CADET, continuing local production enables us to closely monitor quality as well as quickly respond both to design changes and customer trends. We can shorten our lead times for new styles and replenishment. We are also able to establish a rapport and directly communicate with our production partners down to the people who are actually sewing the garments," said Bradley Schmidt, co-Founder of CADET.
"Being Made in New York is at the core of what we do. By hand knitting each piece in New York City we can oversee every step of our process from design to finished garment to insure everything is of the highest quality. We're thrilled that we can utilize the immense talent in this city and feel it's important that we employ and celebrate local artisans, while also helping the next generation build their skills and keep these traditions alive. Preserving the manufacturing side of the fashion industry in New York City not only provides important resources for designers but can ensure well-paying jobs in the industry for all New Yorkers," said Anya Cole, of HANIA by Anya Cole
"We design and manufacture 100 percent of our collection here in NYC, which is meaningful for clients to know that their clothing is made locally and responsibly. We were able to develop our business precisely because we are located in NYC, with the support of vibrant entrepreneurial, tech and fashion communities. We found a home in the Garment District where we run ongoing production of our capsule pieces along with small, custom batches. Our company would never have been possible without access to the many local sample rooms, fabric suppliers, and factories. We're thrilled to see the City's commitment to maintaining one of its greatest resources so that other emerging designers and innovators have a space to grow," said Matthew Wilson, co-Founder, Bib & Tucker Uniforms, Fashion + Tech Startup, and Made in NY Fashion Member Designer.
"I started out very small and so producing in NYC was the only way to go. As my company grew over the years, I investigated doing some production overseas. Every time I looked into producing outside of NYC, I found the hurdles to be too great; too much lead time, higher minimums, and difficulty with quality control. I had also become to know the factories that we worked with and had such a nice and collaborative relationship with them. It just is (and always has been) easier for me and my team that we produce locally. The difference in quality control, lead times, and the unquantifiable "love and care" put into producing our garments is something I couldn't do from afar. I support the city of New York and their commitment to local manufacturing," said Lela Rose, Founder of Lela Rose.
"Manufacturing is crucial to maintaining a strong middle class, and promoting more inclusive growth throughout New York City. In addition to helping New York expand its leadership in the fashion world, the 'Made in New York' campus at Bush Terminal will ensure that local businesses have the space and support that they need to grow and innovate. The double focus on garment manufacturing as well as film and television production will result in solid jobs for New Yorkers throughout the five boroughs, and greatly contribute to the economic diversity of the City," said, Kinda Younes, Executive Director of ITAC.
"FIT is extremely pleased to be an integral component of the Mayor's fashion hub in Brooklyn," said Dr. Joyce F. Brown, President of the Fashion Institute of Technology. "We will launch by offering two non-credit courses this summer toward a Creative Maker Certificate of Achievement in Ethical Design and Local Manufacturing Fundamentals – a topic of great relevance to Brooklyn's thriving creative community."
"Since 1983, Opportunities for a Better Tomorrow (OBT) has been committed to creating opportunities for individuals to access quality employment through training and education programs. OBT is excited to see the city's commitment to building local opportunities here in Sunset Park, at the Made in NY Campus at Bush Terminal. There is a long history of community leadership in this community to increase access to quality local jobs and careers, and OBT looks forward to continue building pathways for individuals to achieve that," said Liliana Polo-McKenna Ed.L.D., Interim Chief Executive Officer of Opportunities for a Better Tomorrow.
"We are excited at the prospect of a reinvigorated and reactivated Bush Terminal, and its potential to once again be a home for local businesses and good industrial jobs. With Brooklyn rents becoming increasingly expensive, investments in city-owned industrial properties ensure that manufacturing, and the jobs that the manufacturing sector provides, can remain here on the Brooklyn waterfront. SBIDC has worked with industrial employers and workers for close to 40 years, and we look forward to working closely with the City as they ensure that Bush Terminal and the Southwest Brooklyn waterfront have a real industrial future," said Dave Meade, South Brooklyn Industrial Development Corporation Executive Director.
"On behalf of the Chinese-American Planning Council (CPC) Brooklyn Community Services, I cannot express how excited we are to see a major garment manufacturing hub coming to the heart of Brooklyn in Sunset Park. The Made in NY initiative is sure to be a catalyst, igniting progress and generating jobs and opportunities for our Brooklyn Communities," said Wayne Ho, President and CEO of CPC.
"Mayor de Blasio's commitment to the Made in New York Campus will reinvigorate Bush Terminal into a state-of-the-art facility for growing companies in the manufacturing and film industries. In addition to creating great jobs in construction, fashion and production for more than 2,000 New Yorkers, this is the type of enlightened initiative that ensures that the city's prosperity is spread across all five boroughs," said Carlo A. Scissura, President and CEO of the New York Building Congress.
The City's investments will result in:
Major renovations to two existing buildings to create nearly 200,000 square feet of garment manufacturing space.
A newly constructed 100,000 square foot, state-of-the-art, film and television production facility.
Pedestrian-friendly streetscape improvements and new plaza space, including improvements to the 43rd Street corridor within the campus, to improve visitor access to Bush Terminal Piers Park.
Significant utility upgrades.
The Made in NY Campus
Film and television production is one of the fastest growing, high-wage sectors in New York City. The city had 336 feature films shot last year, up 40 percent from the year prior, and also saw a 13 percent growth in episodic TV shows. That growth has left many firms struggling to find new and affordable production space. The Made in NY campus will provide high-ceiling sound stages and support space for ancillary uses for film and television production, video and photo shoots, and emerging media sectors such as Augmented Reality and Virtual Reality technologies facilities.
Similarly, while garment production manufacturing comprises 30 percent of the city's manufacturing jobs, the industry has faced decades of global economic pressures that have forced companies to look overseas for production. The Made in NY garment manufacturing hub will provide small white-box spaces, ranging from 2,000 to 20,000 square feet, to companies working in patternmaking, marking and grading, cutting and sewing, and sample making.
The hub will include shared services and related uses to support the success of these garment firms and the larger Sunset Park garment cluster, such as shared logistics and common services like photography & educational support. The hub will support between 25 and 35 garment manufacturing tenants.
To help anchor the Made in NY campus, the City will also be seeking a tenant to provide both food retail and food manufacturing in the 7,500 SF Café Building. This new tenant will provide affordable food and beverage options to campus businesses, Bush Terminal Piers Park visitors, and the larger Sunset Park community.
NYCEDC will require new Bush Terminal tenants to utilize City's HireNYC and Workforce1 programs to connect New Yorkers with job opportunities.
Sunset Park District
NYCEDC Sunset Park District is a 21st Century industrial park that offers best-in-class facilities and amenities for thriving manufacturing firms and provides accessible, quality jobs across three campuses – The Brooklyn Army Terminal, The Made in NY Campus at Bush Terminal and the Brooklyn Wholesale Meat Market. NYCEDC Sunset Park District is currently 4.2 million square feet of leasable space and operates at 93 percent capacity and is home to more than 165 companies that provide approximately 5,000 permanent jobs. The expansion of Bush Terminal follows Mayor de Blasio's $115 million investment in Brooklyn Army Terminal, which will bring 500,000 sf of new industrial space on line in September 2017.
This announcement builds on the Industrial Action Plan released by Mayor de Blasio and City Council Speaker Mark-Viverito, which included hundreds of millions of dollars of investments in City-owned assets to support thousands of good-paying industrial jobs. The development also furthers NYCEDC's Sunset Park Vision Plan, which aims to make extensive investments in infrastructure improvements, professionalizing maritime and rail service, and increasing and diversifying job-intensive industrial uses along the Sunset Park waterfront.
Bush Terminal is a 36-acre campus with 1.4 million square feet of built improvements across 11 buildings. Bush Terminal Piers Park was opened in 2014, with a new southern entrance to the park opening in summer 2017.
About NYCEDC
New York City Economic Development Corporation creates shared prosperity across New York City's five boroughs by strengthening neighborhoods and creating good jobs. NYCEDC works with and for communities to provide them with the resources they need to thrive, and we invest in projects that increase sustainability, support job growth, develop talent, and spark innovation to strengthen the City's competitive advantage. To learn more about our work and initiatives, please visit us on Facebook, Twitter, or Instagram.