Press Release
De Blasio Administration Seeking Proposals to Develop and Operate TV/Film and Media Production Campus in Sunset Park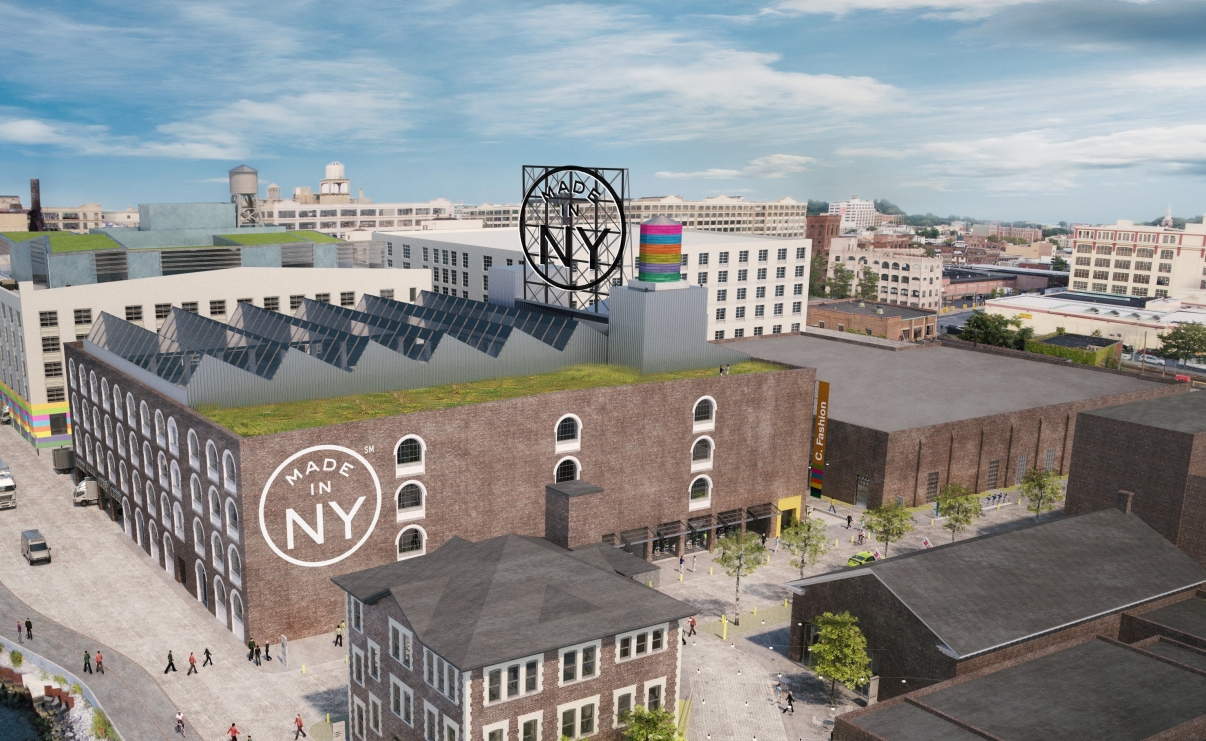 The Made in NY Campus at Bush Terminal Provides Affordable, Best-In-Class Industrial Facilities for Garment Manufacturing, Film and Media Production, and Related Services and Industries
City Seeks Proposals to Develop and Operate a State-Of-The-Art Film, Tv, Sound Recording or Other Media Production Enterprise That Advances Gender Equity, Diversity, and Inclusion
NEW YORK, NY—New York City Economic Development Corporation (NYCEDC) and the Mayor's Office of Media and Entertainment (MOME) released a Request for Proposals ("RFP") for an exciting opportunity to develop nearly 200,000 square feet of waterfront real estate into the Made in New York (MiNY) Campus at Bush Terminal in Sunset Park. The campus will be dedicated to film/television production, sound-recording, media production, and related services and industries.

The City is seeking proposals to develop and operate a best-in-class production facility campus for film and television production, video and photo shoots, sound-recording, and emerging media sectors such as AR/VR. Proposals must meet several goals, including maximizing quality jobs with a focus on local hiring and incorporating design excellence into the campus. Preference will be given to development proposals that advance gender equity, diversity, and inclusion within the film, TV, and media production fields, including both above-the-line positions and below-the-line positions.

"New York City's film and TV sector draws talent from around the world – and creates thousands of good-paying jobs here across the boroughs," said Deputy Mayor Alicia Glen. "The Made in New York Campus will open a new chapter in this success story, by providing a state-of-the-art home base for 1,500 professionals. And we're making sure that this campus will provide opportunities for everyone by requiring that proposals focus on local hiring, gender equity, and promoting diversity and inclusion."

"We're thrilled to transform Bush Terminal into the first-ever Made in New York Campus. These state-of-the-art facilities will provide space for TV/film and media production and garment manufacturing," said NYCEDC President and CEO James Patchett. "Through this effort, we will create quality jobs, help advance gender equity, diversity and inclusion in the media production industry, and strengthen the local Sunset Park community."

"Film and television production in the five boroughs has been expanding rapidly over the last few years," said Julie Menin, Commissioner of Media and Entertainment. "Not only will the Made in NY Campus ensure that TV and filmmakers have more production space and resources, and that more New Yorkers have access to the well-paying production jobs, it will increase gender equity and diversity in this growing industry."

Announced in Mayor de Blasio's 2017 State of the City address, the MiNY Campus is a $136 million City investment that will transform Bush Terminal into a hub for garment manufacturing, media production, and supporting industries. Film, TV, sound-recording and other media production are, in addition to garment manufacturing, the core components of the MiNY Campus strategy.

This RFP for film, media, and production will complement the City's investments, which will result in major renovations to several existing buildings to create nearly 200,000 square feet of garment manufacturing space and additional space suitable for flexible, modern light industrial uses, as well as streetscape improvements, and significant utility upgrades.

"New York City is synonymous with the film and media production industries," said Council Member Vallone, Chair of the Committee on Economic Development. "Projects like these build on our City's strengths and lead to the creation of good jobs for New Yorkers."

"The Sunset Park waterfront stands as one of the neighborhood's – and the City's – most vital resources. From day one, I've been laser focused on revitalizing it as a vibrant resource for the local community," said City Council Member Carlos Menchaca. "Today's announcement of the Made in New York Campus at Bush Terminal is another step in that direction. By providing 500 good-paying jobs and beautifying the surrounding streetscape and plazas, this facility will not only establish Bush Terminal as a creative hub, but also provide a place where local residents can benefit from economically and recreationally."

The film and television production sector is one of the fastest growing, high-wage industries in the city, but a shortage of stable, affordable, high-quality facilities leaves many firms struggling to find space for production. The MiNY Campus presents an opportunity to build new, high-ceiling sound stages and support space for film and television production, video and photo shoots, sound-recording, and emerging media sectors such as Augmented Reality/Virtual Reality.

The 36-acre Bush Terminal Campus is currently home to 500 workers and is expected to add approximately 1,500 new workers starting in 2020. The MiNY Campus will be located next to Bush Terminal Piers Park, which opened in 2014 and now includes a new southern entrance to the park.

Proposals for the MiNY Campus are due November 2, 2018 by 4pm ET. A combined information session and site tour will be held at 10am on August 15, 2018 at Bush Terminal, Unit G, 58 50th street Brooklyn, NY 11232.
About NYCEDC
New York City Economic Development Corporation creates shared prosperity across New York City's five boroughs by strengthening neighborhoods and creating good jobs. NYCEDC works with and for communities to provide them with the resources they need to thrive, and we invest in projects that increase sustainability, support job growth, develop talent, and spark innovation to strengthen the City's competitive advantage. To learn more about our work and initiatives, please visit us on Facebook, Twitter, or Instagram.