Stability for Fashion Manufacturers
One of our efforts to bolster fashion manufacturing in New York City, the NYCIDA Garment Center Program helps fashion manufacturers stay in the Garment Center through affordable, long-term leases.
To do this, the New York City industrial Development Agency (NYCIDA) offers tax incentives that lower the costs for property owners to lease space to fashion manufacturers in the Garment Center Business Improvement District.
Participating Property Requirements
| | |
| --- | --- |
| Eligible Geography | Garment Center BID (see map below) |
| Term Length | Minimum 15 Years |
| Fashion Manufacturer SF/Property | Minimum 25,000 SF |
| Fashion Manufacturer Rent Cap | $35 PSF Gross Rent (all expenses included) |
Program Benefits
Real estate taxes are lowered based on square footage leased to Fashion Manufacturers as follows:
Note: $0.04 of Real Estate Tax Benefit for each 1,000 SF of Fashion Manufacturer SF preserved above 25,000 SF. Benefit is applied to Property's gross square footage.

| Total Square Footage Leased to Fashion Manufacturers | Real Estate Tax Benefit per Square Foot |
| --- | --- |
| 25,000 | $1.00 |
| 50,000 | $2.00 |
| 75,000 | $3.00 |
| 100,000 | $4.00 |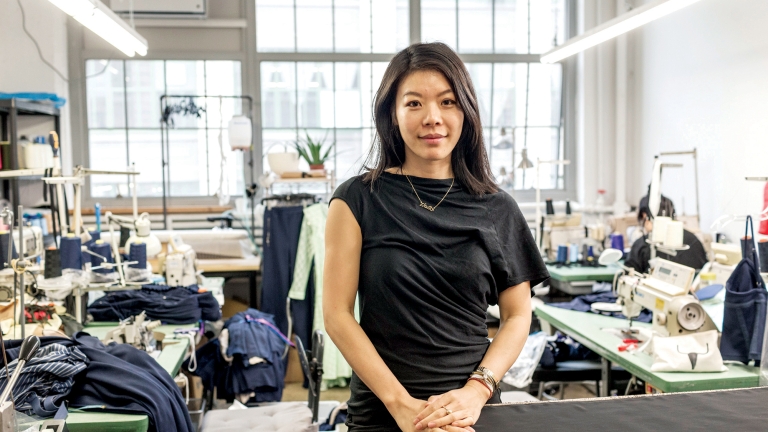 Supporting the Garment Center
A plan to preserve production space and long-term stability for the fashion industry.
The plan includes:
Manufacturing Preservation through the NYCIDA Garment Center Program
Workforce Development through the Fashion Manufacturing Initiative
Funding for the Garment District Alliance
Placemaking + Garment Advisory Group and Outreach
Leasing Requirements for Fashion Manufacturer Tenants 
Gross rent cap of $35 PSF (all expenses included) with annual escalations allowed 
Minimum lease term of 15 years (through initial term and extension options) 
Fully executed leases at closing of the NYCIDA transaction 
What's a Fashion Manufacturer? 
The program defines "Fashion Manufacturer" as a company that: 
Transforms raw materials into fashion-related products that are produced on-site for paying clients, which include but are not limited to brands, designers, and theatre production companies; 
Primarily cuts and sews or knits fabric into garments and/or provides a service along the garment production supply chain such as pattern-marking and grading, sample-making, embroidery and embellishment, or textile and raw materials treatment and dyeing services; 
Primarily buys raw material, designs, and prepares samples, one of a kind garments, or makes products that are an accessory to garment production (e.g., belt manufacturers, button manufacturers, and label and tag manufacturers); 
Primarily manufactures fashion accessories such as trimmings, jewelry, handbags and luggage, footwear, and technology-focused applications for the fashion and garment industry (i.e., "wearables"); 
Supplies raw material and/or finished products to designers, manufacturers, or costume makers in support of the local fashion ecosystem; or 
Is primarily engaged in other activities involving the production, assembly, creation, fabrication, or processing of garments or related fashion products (e.g., marking, grading) approved in writing by the NYCIDA (for purposes of this definition).
Selection Considerations 
NYCIDA will evaluate specific properties from landlords looking to fulfill the Program Goals and abide by the Participating Property Requirements. The NYCIDA Garment Center Program is seeking total Fashion Manufacturer SF of 500,000 SF. The NYCIDA may not provide Program Benefits in excess of 500,000 SF of total Fashion Manufacturer SF. 
Please contact NYCIDA to determine your property's eligibility or for further information about this program. 
Transaction Structure
To receive the above-described benefits, approved companies must lease their properties to NYCIDA, which leases the site back to the company for a term equal to the term of real estate tax reductions. This 'lease-back' structure should not prevent companies from obtaining federal tax depreciation benefits on the property. 
Disclaimer 
The submission of an application to the Agency does not obligate the Agency to provide the requested benefits. The Agency and its duly authorized officers retain the discretion to not proceed with any project notwithstanding the prior adoption by the Agency of an inducement and/ or authorizing resolution with respect to such project.