Press Release
Photo Release: Thousands Attend Brooklyn Army Terminal's 100th Birthday Block Party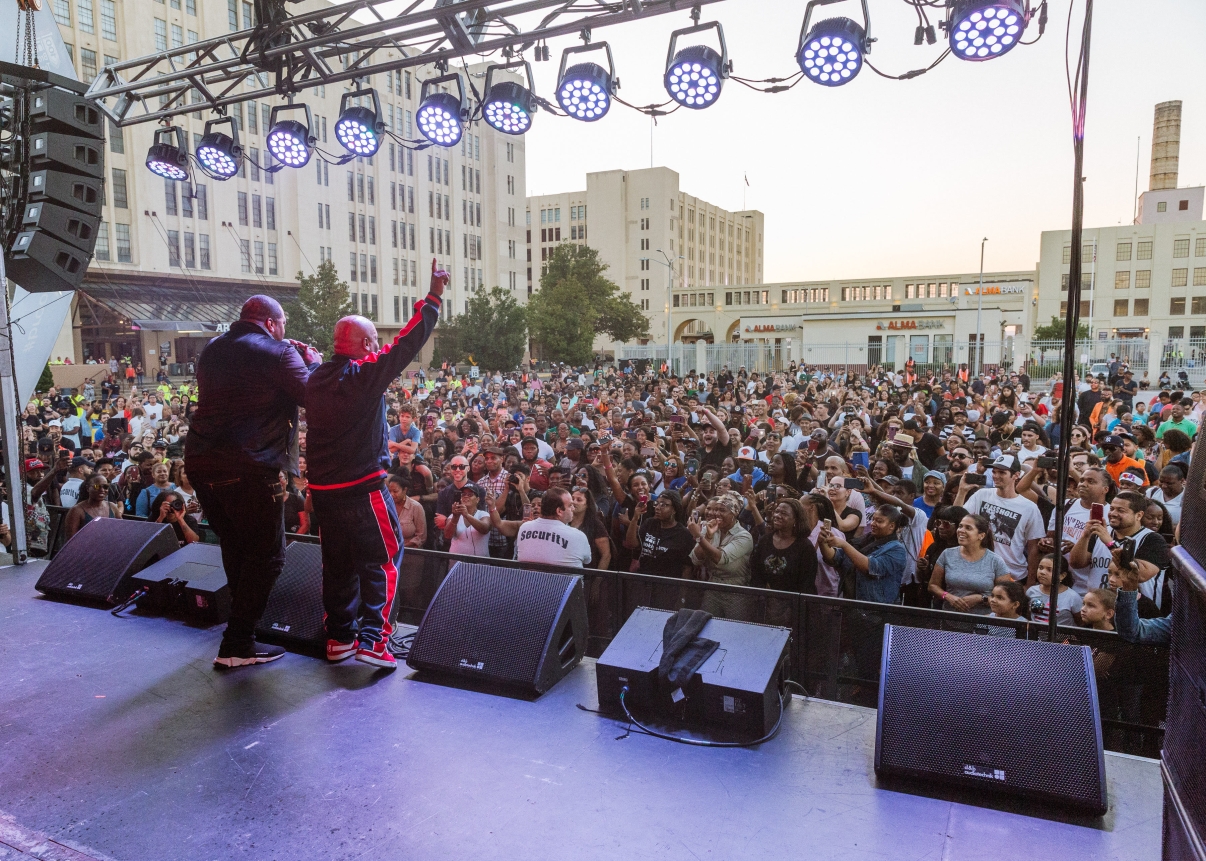 Event Featured a Free Concert from Busta Rhymes and Justine Skye, Community Performances, Art Galleries, a Beer Garden, Virtual and Augmented Reality Exhibitions, Family-Friendly Activities, and Product Demos from Brooklyn Army Terminal-Based Companies
SUNSET PARK, BROOKLYN—This weekend, thousands attended the inaugural Brooklyn Army Terminal block party to celebrate the campus' 100th birthday. Grammy nominated rapper, Busta Rhymes, rising R&B star, Justine Skye and NY-based DJ Natasha Diggs headlined the celebration with performances that filled the campus with energy and excitement.
"The BAT Block Party was a huge success," said NYCEDC President and CEO James Patchett. "We were so proud to show the Sunset Park community – and the rest of the city – everything that this iconic campus has to offer. With new public waterfront open space, an impressive roster of innovative companies, and much room to grow, the Brooklyn Army Terminal is entering a new chapter of its already storied history."
In addition to the standout performances, attendees enjoyed an array of activities including a yoga class by NYC Yoga, an art exhibit by ArtBuilt and ChaSham artists; product demos from BAT-based companies like Uncommon Goods and Lowercase NYC; family-friendly activities like kite making, crafts and book-making; an art installation by Harumi Ori, as well as augmented reality experiences from NYU Tandon and NYC Media Lab partners. Guests also enjoyed the beer garden and delicious food from vendors including City Saucery, Momo Dressing, and Jamrock Jerk.
Below are photo highlights from the event. You can download additional photos of the event here. Video footage available upon request.
The BAT campus has recently undergone renovations, opening the historic property to the public and increasing the community's connectivity to the Sunset Park waterfront. The BAT Block Party builds on other exciting community events that have taken place there this year including the Swale floating food forest, and various film screenings by Rooftop Films, the Boricua Festival, and this year's Brooklyn PopUp dinner from Handmade Events, among other programming.
In 1918, the federal government broke ground on a 4-million-square-foot, Cass Gilbert-designed military facility on the Sunset Park waterfront. This became the Brooklyn Army Terminal, which served the country for decades as a supply base and an Army headquarters during World War II, helping to deploy over 3.2 million troops and 37 million tons of supplies from the New York Port of Embarkation to battlefronts across the globe. In 1958, the campus saw its most famous solider deploy when Elvis Presley left Brooklyn for Germany in 1958.
Busta Rhymes is an 11-time Grammy nominated rapper, producer, record executive, and actor. He began his professional career as a member of the Long Island hip-hop quartet Leaders of the New School (LONS.) In 1996, Busta Rhymes unleashed his solo debut, The Coming, which featured the hit song "Woo Hah!! Got You All In Check." Busta Rhymes' many international pop, rap and urban top tens has extended well over a decade. They range from the platinum, Grammy-nominated single "Woo-Hah!! Got You All in Check" through the No. 1 Hip-Hop/R&B and No. 3 pop "What's it Gonna Be?!" featuring Janet Jackson and "Pass the Courvoisier" with P. Diddy and Pharrell, and into the digital era with the gold-certified song "Touch It."
Justine Skye is a rising star that has been a resonating sound in music since 2014 and embodies the unique freshness of the next new wave of R&B through edgy lyrics centered around love and self-worth. Justine's highly anticipated full-length debut, ULTRAVIOLET,was released in early 2018, and was followed by her first headlining North American tour. She recently had the honor of being selected to pay homage to the iconic Janet Jackson with a special tribute performance at the 2018 BMI Awards. Justine will round out this successful year with a new single and forthcoming EP scheduled for a Fall release.
About NYCEDC
New York City Economic Development Corporation creates shared prosperity across New York City's five boroughs by strengthening neighborhoods and creating good jobs. NYCEDC works with and for communities to provide them with the resources they need to thrive, and we invest in projects that increase sustainability, support job growth, develop talent, and spark innovation to strengthen the City's competitive advantage. To learn more about our work and initiatives, please visit us on Facebook, Twitter, or Instagram.