Press Release
Over 500 Attendees Pack NYCEDC Development Finance Conference on Investing for Impact in NYC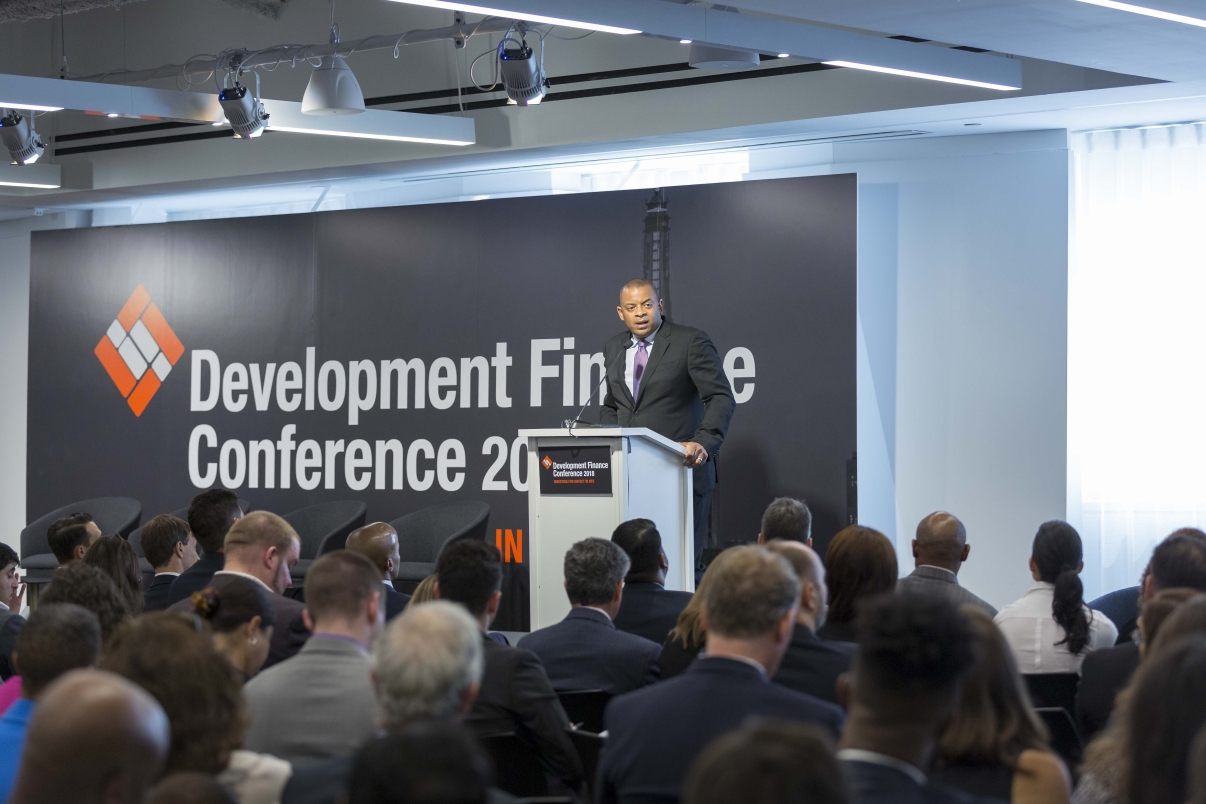 Conference Featured Leaders in Real Estate, Finance, Tech, Life Sciences, and Government
NEW YORK, NY—On September 17, New York City Economic Development Corporation (NYCEDC) hosted its 2018 Development Finance Conference: Investing for Impact in NYC at Convene. Over 550 attendees explored how leveraging the City's investment strategies can lead to growth across the five boroughs and gained insight into public and private investments that are shaping New York City this year and beyond.

More photos of the conference are available here.

The conference featured keynote speaker Anthony Foxx, the 17th United States Transportation Secretary and Founder and Managing Partner of Related Infrastructure. The conference brought together leaders in real estate, finance, tech and government to discuss industry trends and New York City's role as a global market. In addition, panelists explored New York City's impact on international communities and how investing in the City will lead to a more prosperous, modern and globalized world.

"New York City Economic Development Corporation is proud to have hosted the City's premiere forum on finance and development," said NYCEDC President and CEO James Patchett. "With direct access to leading experts, attendees learned how both the public and private sectors are shaping the boroughs, and heard novel approaches to financing their own projects."

The conference included five sessions focusing on topics ranging from emerging industries to investment opportunities. The conference's leading panel, "Investing for New York City's Future," was led by Peter Grant of the Wall Street Journal, and featured Raymond J. McGuire of CitiGroup Inc, MaryAnne Gilmartin of L&L MAG, and James Patchett of NYCEDC. The speakers discussed how investments being made today will impact the future of the City. Furthermore, they explained why investing in certain sectors today is crucial to staying competitive and achieving success in the rapidly globalizing world.

Mitchell Korbey of Herrick Feinstein led a discussion on real estate trends, zoning and City incentives across the five boroughs in relation to recent industry shifts. Panelists included Chair Marisa Lago of the NYC Planning Commission, Andrew Kimball of Industry City, David Falk of Newmark Knight Frank, Thomas Donovan of B6 Real Estate Advisors, and Matt Kwatinetz of NYCEDC.

Another session discussed opportunity zones and how this new tax tool will catalyze development. The session included an expert panel of finance and investment experts, including Margaret Anadu of Goldman Sachs' Urban Investment Group, Seth Pinksy of RXR Realty, Stephen G, Tomlinson, P.C. of Kirkland & Ellis, Mike Bernier of Ernst & Young, Aron Betru of the Milken Institute, and Eric Clement of NYCEDC. The speakers broke down what opportunity zones are, how they encourage development and how to strategically invest in them. Panelists discussed underrepresented communities and the challenges in developing within neighborhoods without displacing residents.

Ryan Simonetti of Convene, Julie Samuels of Tech:NYC, Vanessa Liu of SAP.iO Foundry- New York, Tim Schoen of BioMed Realty and James Katz of NYCEDC discussed New York City's emerging industries and how the City is investing in life science, cybersecurity, urban tech, VR/AR and advanced manufacturing. They also explored how emerging industries will grow over time, and how investment strategy will shift accordingly.

Robert Powell, senior consultant at The Economist Intelligence Unit, moderated a discussion on New York City's international impact as a leader in the global market. Panelists included Hany Fam of Mastercard, Kaleigh Haeg of Colliers International UK, Alastair J.M. Walton, Consul- General of Australia to New York and Ana Ariño of NYCEDC.

From tax incentives to talent programs, NYCEDC laid out its plans to fuel economic growth throughout the five boroughs. NYCEDC detailed the City's plan to develop an opportunity zone program to provide access to funding and services, and its pipeline for projects. Globalization, tech and investing in the future are all factors directly shaping that mission. This conference succeeded in providing a forum where industry professionals and participants could discuss, understand and reimagine investing in the City's future. All of the panels stressed that approaching these transactions in a strategic way will result in a more prosperous future, both for New York and the international community.

About NYCEDC
New York City Economic Development Corporation creates shared prosperity across New York City's five boroughs by strengthening neighborhoods and creating good jobs. NYCEDC works with and for communities to provide them with the resources they need to thrive, and we invest in projects that increase sustainability, support job growth, develop talent, and spark innovation to strengthen the City's competitive advantage. To learn more about our work and initiatives, please visit us on Facebook, Twitter, or Instagram.