Employee Profile
Mary Mueller, Vice President, Public Affairs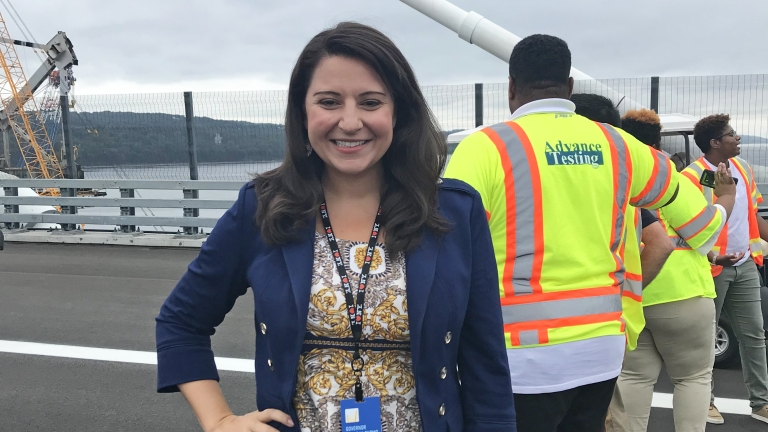 What was your first job?
My first job after college was as a desk assistant at a cable news network where I helped put breaking news on the air from local television affiliates.
How did your previous roles lead you to NYCEDC?
I previously worked for the New York State Senate for about three-and-a-half years in government communications and was looking to learn more about city government and working for a City agency. I had previously served as the in-district communications director for Senate Majority Leader Andrea Stewart-Cousins and, prior to that, communications director for former State Senator David Carlucci. In both positions, I had the amazing opportunity to direct press coverage on nation-leading legislation and important community work. Coming to NYCEDC to help direct media strategy on large-scale economic development projects and their meaningful impact on neighborhoods seemed like a truly unique opportunity to leverage my media relations and government skills, while continuing to work in public service.
What's the most rewarding part of your job? (Is there a specific project or borough you enjoy working on?)
The most rewarding part of my job is working on projects that have a positive impact on a neighborhood or set the vision for change in the future. This year, I had the opportunity to help generate press coverage around Hunts Point Forward, a comprehensive community-driven plan to help improve quality of life in the South Bronx. The plan will address family-sustaining jobs, improve public safety, enhance community health and access to healthy food, promote environmental justice, and deliver upgrades to open space, transportation, and other key community infrastructure. By centralizing coordination and accountability and supporting the plan with City funding, we have helped to begin the important process of addressing the needs of communities that have historically been underserved.
How do you relax when you're not working?
I like to take spin classes, watch new shows on Netflix, and hang out at the pool or beach.
How has working for NYCEDC changed your perspective on NYC?
NYCEDC has allowed me to better understand the issues impacting different neighborhoods, and what it really takes to effect change.
Mary Mueller was named NYCEDC's "Employee of the Month" for July 2022.