Employee Profile
Erich Bilal, Assistant Vice President, Development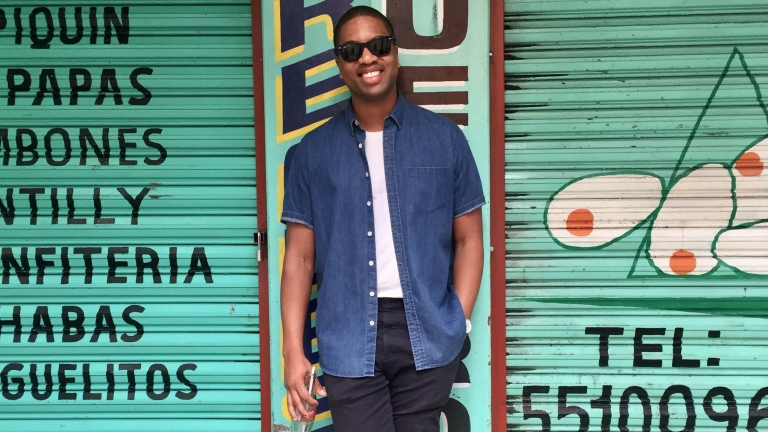 Like Clockwork
Erich Bilal's path to NYCEDC started about how you'd expect: in a garage, helping an aspiring artist build German-style cuckoo clocks. Naturally, that led to studying landscape architecture and urban design as an undergrad, city planning in grad school at UPenn, and then on to jobs in for-profit and nonprofit real estate development, focusing on community facilities. "Both of those roles worked well to prepare me for the transformative type of work we do here at NYCEDC, Erich says. (Ok, so it wasn't the cuckoo clocks.)
There's nothing more rewarding about being here than working with some of the best and brightest minds to solve complex problems for New York City.
Erich Bilal
Assistant Vice President, Development
Joining EDC
Erich joined NYCEDC in May 2016 and says it was truly the perfect fit for so many of his interests. "As someone interested New York City, urban planning, economic development, and real estate development, NYCEDC represents a really unique opportunity to work on projects that intersect all of these things, and more. The scale and ambition of the work that we take on here is intoxicating!"
And it's clear that his job not only draws on his many interests but also relies on an equally broad skillset. "A lot of my work is helping to ensure that interagency/interdepartmental projects progress in a timely and strategic manner," Erich says. "Doing that takes planning knowledge, project management skills, effective communication, strategic thinking and, above all, a resilient sense of humor. It really pays to be a jack of all trades."
But don't think Erich Bilal is all spreadsheets and neighborhood plans. Outside of work, he has a healthy appetite for "whatever compelling sporting event is on TV" (though he admits his bar for "compelling" is pretty low).